CSU-LSAMP PROUD Scholars
The CSU-LSAMP Program Recognizing Outstanding Undergraduate Distinction (CSU-LSAMP PROUD) is a program designed to recognize and highlight the achievements of our outstanding LSAMP students.
Each year, Cal Poly's LSAMP Program selects four of its current students or alumni based upon their personal achievements, such as: outstanding academic performance, research accomplishments, community service, leadership, and/or personal triumph. 
Selected PROUD Scholars receive a certificate acknowledging their distinction and are featured in the annual CSU-LSAMP PROUD publication released every October. 
Nominations for 2019 PROUD Scholars
We are currently not taking applications. Please return in April to nominate yourself or a fellow LSAMP student* to be recognized as a 2019 PROUD Scholar. 

*CSU-LSAMP Award recipients must be a current or former Cal Poly LSAMP student eligible for LSAMP financial support. LSAMP participants who are not eligible for financial support may still be nominated for a Cal Poly LSAMP award.
Take a look at our current and past CSU-LSAMP PROUD Scholars below.
Daniel Sanchez
Aerospace Engineering
---
Outstanding Service/Leadership 
Daniel graduated with a BS in aerospace engineering in spring 2018. He played several leadership roles in an effort to promote higher education to underrepresented minorities. Daniel joined the Society of Hispanic Professional Engineers (SHPE). In SHPE, he led a committee of six members that worked to promote STEM careers to high school students in Santa Maria. He organized campus tours, industry tours, engineering workshops, and financial aid presentations to provide high school students a pathway to higher education. In summer of 2016, Daniel joined the AmeriCorps program as a CSU STEM VISTA Summer Associate, a full-time, ten-week program designed to expose K-12 underrepresented students to the STEM fields. In this role, Daniel promoted inclusivity and diversity for Cal Poly's Engineering Possibilities in College (EPIC) Summer Camp. At EPIC, he provided diversity and inclusion training to camp counselors, taught engineering labs to middle school and high school students, and served as a counselor for middle school students, including participants in Migrant Education Programs. Daniel's main career goal is to obtain a PhD in engineering and continue to promote STEM to underrepresented minorities. His main personal goal is to show underrepresented minorities that anything is possible with higher education.
National Society of Black Engineers (NSBE)
---
Outstanding Contribution to Creating a More Diverse, Inclusive, and Equitable Cal Poly & STEM Workforce
The National Society of Blacks Engineer's mission is to increase the number of culturally responsible Black engineers who excel academically, succeed professionally, and positively impact the community. The chapter, established in 1978, was created to academically and professionally support minority STEM students on campus. Each year, members attend national and regional organization conferences where they network with industry and other students from across the country. The conferences also provide valuable workshops to help students develop personally and professionally and a career fair with hundreds of global companies. NSBE also plays an important role creating a more diverse, more inclusive, and more equitable university. The 2017-18 NSBE Executive Board included the following CSU-LSAMP participants: Jeana Osburn, President, industrial engineering major; Ben Granberry, Vice President, civil engineering major; and Amman Asfaw, Secretary, electrical engineering major. Jeana joined NSBE her freshman year, and first became involved in the chapter's executive board as Secretary during her sophomore year. Ben joined NSBE as a freshman hoping to meet other black engineers but became more involved when he learned about NSBE's resources. Amman joined NSBE his freshman year, as the Social Media Chair, and has been heavily involved ever since.
Kai Ling Liang
Civil Engineering 
---
Outstanding Academic
As a first-generation college student from a low-income family, Kai Ling excelled academically as a civil engineering student. Kai Ling earned multiple scholarships through her department and outside organizations to fully finance her education. She also worked as a tutor at Engineering Student Services, where her guidance and expertise contributed to the academic achievements of dozens of students in the College of Engineering. Kai Ling invested countless hours of dedication and hard work to develop herself as an engineer. She was the junior captain for the ASCE Steel Bridge team and designed a shower facility for a children's summer camp as a member of the Local Projects Team of Engineers Without Borders Cal Poly. Additionally, she has participated in research, organized labs for the Engineering Possibilities in College (EPIC) program and interned as a gas distribution engineer and structural designer at PG&E and FTF Engineering, respectively. For her senior design project, she directed a team of five in designing a culvert to mitigate flooding to downtown San Luis Obispo in a 100-year storm. Her design was praised by industry judges for its constructability and structural design, contributing to her team earning second place out of 24 teams in her class. Kai Ling is currently completing a master's in sustainable design and construction at Stanford University, where she plans to integrate constructability and sustainability with structural design to influence her future projects' environmental impacts and lifespans.
Roberto Abril Valenzuela
Physics & Mathematics 
---
Outstanding Research in STEM
Roberto graduated Magna Cum Laude with a double major in physics and mathematics in June 2018. He started as a physics major and later added a second major in mathematics after realizing he had a passion for both subjects. Roberto became involved in undergraduate research his second year when he joined Dr. Colleen Marlow's research group, where he studied thermal dependence of the electronic properties of carbon nanotube devices. Roberto conducted summer research with Dr. Marlow as part of the Frost Undergraduate Research Program after his sophomore year. In fall 2016, he presented his work at the Frost Research Poster Conference at Cal Poly. In Summer 2017 he participated in the Physics REU program at the University of Colorado at Boulder where he worked with Dr. Minhyea Lee on analyzing quantum oscillations in non-magnetic materials. Roberto completed his senior project with Dr. Marlow, focusing on expanding existing computer simulations of carbon nanotube films to include gating effects observed in experimental data. Roberto started his PhD in physics through LSAMP's Bridge to the Doctorate Fellowship at UC Santa Barbara, where he plans to continue his studies in the field of condensed matter. After obtaining his doctorate degree, Roberto plans to pursue academic research and to teach physics at the university level.
Carla Simental 
---
Carla Simental majored in Architectural Engineering at Cal Poly, San Luis Obispo. In 2017 she started the blended Master's program, and will graduate with an M.S. in Architectural Engineering in fall 2017. As an undergraduate, Carla played a visible leadership role in efforts to create a more diverse and inclusive Cal Poly. This work to "give back" was motivated and shaped by her own experiences growing up with a single mother and facing many financial difficulties. With guidance and support, Carla earned honors in high school and the opportunity to pursue her passion in structures at Cal Poly. At Cal Poly, Carla joined the Society of Hispanic Professional Engineers (SHPE). She was part of an 8-person team that established a local SHPE Jr. chapter to provide a way for Cal Poly students to mentor high school students in Santa Maria. The next year, Carla served as the Outreach Coordinator for SHPE, and continued to build pathways to engineering for youth in Santa Maria and other communities by organizing campus tours, engineering workshops, and financial aid presentations, as well as serving as a speaker and panelist. In 2015-16, Carla was elected SHPE president. Under her leadership, 45 Cal Poly students participated in the SHPE annual conference in Baltimore – the highest participation level by Cal Poly to date. Carla was recognized by the Cal Poly LSAMP Program in May 2014 as Outreach Member of the Year. As a structural engineer, Carla plans to continue to promote STEM to students from underrepresented groups.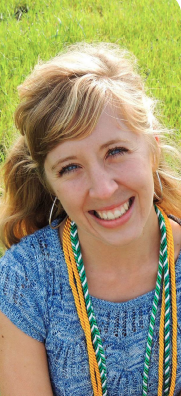 Janine Sengstack 
---
Janine Sengstack graduated summa cum laude from Cal Poly, San Luis Obispo, in fall 2016, where she earned a B.S. in Biological Sciences with a concentration in Cell and Molecular Biology. In summer 2016, Janine participated in the Amgen Scholars Program at the University of California, San Francisco (UCSF). She began a Ph.D. in the interdisciplinary Tetrad Graduate Program at UCSF in August 2017, where she studies molecular biology, genetics and biochemistry. Janine strives to understand how molecular mechanisms of cell function culminate in the macroscopic phenotypes we see, and how apparently disparate systems are in fact intertwined and inextricably connected. Her goal is to utilize her knowledge to make a positive difference in her community as a researcher in the biotechnology and/or biopharmaceutical industries. Via reflection on her own experiences – including gratitude for the many positive opportunities she has had – and observations of the challenges experienced by many, Janine developed a desire to support other students in overcoming adversity. To address this goal, Janine volunteered for the Cal Poly LSAMP Program by serving as an Undergraduate Research Experiences student panelist multiple times and collaborating with a CSU STEM VISTA AmeriCorps volunteer to develop a comprehensive guide for LSAMP students to learn how to become involved with on- and off-campus research experiences. Janine also mentored multiple LSAMP students during their application processes for undergraduate research experiences and internships. The Cal Poly LSAMP Program recognized Janine with an Excellence in Commitment to Community Service to LSAMP Students Award in May 2016.
Averil Royal 
---
Averil Royal is a Biological Sciences major at Cal Poly, San Luis Obispo, with a minor in Microbiology. Originally from Dallas, Texas, he began his education at Cal Poly as a Computer Engineering major. Averil found his passion, however, in biology and switched majors during his 3rd year. For the past two years, Averil has conducted undergraduate research in the Physiological Ecology of Reptiles Laboratory (PERL) at Cal Poly with Dr. Emily Taylor. Since joining PERL, Averil has participated in multiple research projects focused on the environmental physiology of reptiles. He is currently the student lead on a project that tests whether body size has an effect on thermal tolerance in ectotherms (animals that rely on external sources for body heat). The goal of this research is to contribute to understandings of the current and likely future impacts of global climate change on ectotherm populations. In summer 2016, Averil was supported by a Frost Scholarship that allowed him to focus on his research full-time. In June 2017, Averil presented a poster at the Joint Meeting of Ichthyologists and Herpetologists in Austin, TX. Averil is also an executive board member of the Cal Poly Chapter of the National Society of Black Engineers, founder of the Cal Poly Powerlifting Club, and member of Black Student Union and Pilipino Cultural Exchange. After his graduation in spring 2018, Averil plans to pursue a Ph.D. in Biology and a career as a research scientist.
Austin Rivera 
---
As an undergraduate, Austin Ramon Rivera played a leadership role in multiple organizations designed to create a more diverse and inclusive Cal Poly. As a member of the student-coordinator team, Austin organized the 2017 PolyCultural Weekend, an orientation program for conditionally admitted high school and transfer students from underrepresented groups. The goal of PCW is to connect the 300+ participants to current Cal Poly students, cultural organizations, and resources to build community and a sense of belonging that encourages the students to choose Cal Poly (as the 2013 PCW did for Austin). In 2016-17, Austin also served as chapter president of the Nu Alpha Kappa Fraternity Inc., an organization focused on uniting the Latinx community through academic, social and cultural means, and the promotion of higher education. In summer 2016, Austin completed 400 hours of service as a CSU STEM VISTA AmeriCorps Summer Associate, a program designed to support the academic and professional success of students from underrepresented groups in STEM. In this role, Austin developed and implemented diversity and inclusivity training for counselors in the Cal Poly Engineering Possibilities in College (EPIC) summer camp; taught engineering labs to middle school and high school students; and provided critical support for new equity initiatives in the BEACoN Mentors and LSAMP programs. Austin's career goal is to integrate his passion for helping others with his great appreciation for science. Austin will graduate from Cal Poly, San Luis Obispo, with a B.S. in Electrical Engineering this fall.
Ana Nuñez 
---
Ana Nuñez is a senior Biological Sciences and Microbiology double-major at Cal Poly, San Luis Obispo, with a minor in Spanish. Ana joined LSAMP in her second year and found her first research experience studying herbivory in rainforest plants and parasites in deep ocean fish in the 2014 CSU-LSAMP International Research Experience in Costa Rica. Upon her return, she served on an LSAMP panel for other students interested in undergraduate research, and presented her Costa Rica research in a poster presentation at the 2014 SACNAS National Conference. The following summer, Ana was selected as one of Cal Poly's College of Science and Mathematics' Summer Researchers, and began working with Dr. Sandi Clement researching the role of cell signaling processes in the post-transcriptional regulation of gene expression in human cells. She has continued this research over the past year, sometimes performing tasks that would typically be carried out by advanced graduate students. Ana recently presented her work with Dr. Clement at the Experimental Biology Conference in San Diego in April, 2016. She is also listed as a co-author of a paper that will be submitted for publication in the near future. Ana plans to pursue graduate school in the fields of microbiology or molecular biology upon completion of her degree in Fall 2016.
Heleni Ramirez 
---
Heleni Ramirez is a senior Kinesiology major with a Health Science concentration and a Statistics minor at California Polytechnic State University, San Luis Obispo. She is set to graduate in Spring 2016. Heleni has been involved in research since she joined LSAMP her sophomore year, when she developed her application for the University of Vermont's Summer Neuroscience Undergraduate Research Fellowship. During this experience, she looked at working memory networks in response to a nAChR blockade in individuals with prodromal schizophrenia, while simultaneously assisting Dr. Alexandra Potter and rest of the Potter Lab on a separate research project investigating impulsivity. Upon completing her time at UVM, she returned to Cal Poly to serve as a research assistant for a Kinesiology graduate student's thesis project by scoring and coding responses to survey materials and preparing data for descriptive analysis. Towards the end of her junior year she presented her neuroscience research poster at Emory University's STEM Symposium, taking 3rd Place for undergraduate student posters. In Summer 2015 she was a member of the Fostering Advancement & Careers through Enrichment Training in Science (FACETS) cohort at the Harvard T. H. Chan School of Public Health. She worked alongside two other participants, under the guidance of Dr. Gary Adamkiewicz, to develop a proof-of-concept study focused on using mobile data, collected by wearables and nearables, to estimate time activity for use in indoor air quality studies. She is currently working with Dr. Christine Hackman to complete her senior project, which examines differences in normative perceptions of sexual assault in college students. Heleni is preparing graduate school applications to biostatistics and epidemiology master's programs.
Raul Nava 
---
Raul Nava is a Winter 2016 graduate of Cal Poly, San Luis Obispo, with a B.S. in Biological Sciences and a concentration in Cellular and Molecular Biology. Raul began conducting research on Cal Poly's campus with Dr. Sandi Clement through the Bridges to Baccalaureate program. After he transferred from Allan Hancock College, Raul immediately built his support network and joined LSAMP. He continued to work with Dr. Sandi Clement on the role of cell signaling processes in the post-transcriptional regulation of gene expression in human cells. He presented this research at the Experimental Biology Conference in 2014 and again at Cal Poly's College of Science and Mathematics Student Research Conference in 2015. Raul has served on multiple panels for LSAMP, and became an EOP mentor for fellow transfer students.  Raul is especially talented at training other students in the lab, and has received commendations on his "chalk talk." Raul is also a co-author on a paper that will be submitted for publication in the near future (with Ana Nuñez). Raul intends to pursue graduate studies in Cellular and Molecular Biology in the near future.​
Michael Agaro 
---
Michael Agavo was born in Fresno, CA and raised in Michoacán, Mexico, and is proud to call "California's Central Valley" his home. He transferred to Cal Poly, San Luis Obispo from Reedley College in 2013, where he had first developed an interest in research: he assisted his Physics instructor, Lauren Novatne, in partnership with NASA/IPAC Teachers Archive Research Program, in cataloging young and old stars to better understand their life cycle. Soon after starting at Cal Poly, he became an active member of the LSAMP Program, as well as the Society of Petroleum Engineers (SPE), of which he is the current president. He is also a member of the Society of Hispanic Professional Engineers (SHPE) and the Multicultural Engineering Program at Cal Poly. Through LSAMP, he traveled to Mexico to better understand Solar-Heating Water Systems that are currently being used in developing countries, but not here in the U.S. Using this research as the basis for his senior project, he proposed to further study the performance of these systems, as well as find ways to make them more affordable. His proposal was approved and later gained sponsorship by Dr. Mason Medizade, a Mechanical Engineering professor at Cal Poly. Michael, along with two other students, has found interesting results which may be published in the near future! Michael is additionally working with Dr. Medizade on a separate research project studying ways of reducing greenhouse gas emissions caused by the transportation of gas and oil through existing pipelines. He will be presenting his work in the Student Paper Competition hosted by the University of Fairbanks Alaska at the Society of Petroleum Engineers Western Regional Meeting in Anchorage, Alaska in May, 2016. Michael will earn his B.S. in Mechanical Engineering in June, 2016.
Rocio Gonzalez 
---
Rocio is a Nutrition Science major, first generation college student, and an active participant in many organizations at Cal Poly, San Luis Obispo, including LSAMP. She is a member of the Student Diversity Advisory Council in the Office of Diversity & Inclusivity, where she has worked on such projects as restructuring the cultural sensitivity training for orientation leaders and increasing the amount of culturally diverse artwork on campus. As a Peer Advisor for Student Academic Services' First Year Seminar and a Coordinator for Cal Poly's Orientation for United Raza, she oriented, advised and provided resources for over 50 first generation college students. In addition, Rocio has lead program development focused on Latino/a culture and student populations. Rocio has earned her distinction as Outstanding Community Development and Social Change Advocate for integrating her social justice knowledge with her STEM major, as is evidenced by her research projects. The first project she was involved in focused on obesity prevention for pregnant women of color. She presented her second research project, entitled "Infants Eating Junkfood? Feeding Practices in a Diverse Population," in a poster presentation at Cal Poly in May 2014, and at the Obesity Week/Obesity Society Annual Conference in Boston, MA in November 2014. This work examines maternal infant feeding practices in vulnerable populations, and how these practices relate to an increased risk of chronic health diseases. Rocio will work as a health policy intern with the Latino Coalition for a Healthy California in Sacramento during summer 2015, where she will further explore the connections between scientific research, policy, practice, and lived experiences in the area of food justice.
Amy McBirney 
---
Amy's passion for people, teaching, animals, and science has driven her to pursue veterinary medicine as her career of choice. Throughout her academic career, Amy has had the opportunity to join 4-H, the nation's largest youth development and mentoring organization, which encourages youth to reach their full potential through the provision of youth leadership, educational, and community service experiences. As a result of her aspirations to become a future leader and veterinary professional, Amy has been accepted to the University of California Davis School of Veterinary Medicine, an institution renowned worldwide for its ability to produce leaders, educators, and innovators in research and technology. Here she will continue to pursue a veterinary career through their graduate program. Amy is determined to one day being able to reciprocate the guidance and kindness once shown to her through her role as a mentor and hopes to one day share her personal story of an educational and career goal accomplished.
Nicole Peretti
---
Nicole has earned recognition as Cal Poly, San Luis Obispo's Outstanding Alumna because of her tremendous academic success and her ongoing dedication to the LSAMP program. Although she changed her major twice at Cal Poly, she maintained a high GPA throughout her undergraduate years. In addition, Nicole recently graduated with a 4.0 in the Biomedical Engineering Master's program at Cal Poly. Nicole has been an active participant in Cal Poly LSAMP since Summer 2011, and was recognized as a CSU-Wide LSAMP Student Scholar in 2011-12. She participated in a CSU-LSAMP Global Awareness Experience at the Innsbruck Medical University Genetics Lab in Austria in 2012, and identifies this as the first stepping-stone to her success today. Not only did she meet a life-long friend through this experience, but the research she did in Austria opened doors to future presentations and networking. For example, Nicole presented her Austrian research on protein expression in liver function at both ABRCMS and ERN, and was invited as a guest speaker at an ERN International STEM Research Collaboration Session in 2012. As a result of the connections she made at these ERN presentations, Nicole was offered an off-campus summer research opportunity at Duke University in the Laboratory for Psychiatric Neuroengineering in 2012. This research experience was supported by a Sally Cassanova Pre-Doctoral Scholarship. During her summer research experiences at Duke University, Nicole received an invitation to participate in a one-year research internship at the Alberto Santos Dumont Association for Research Development Clinical Neuroscience Lab in Brazil. When she returned to Cal Poly to finish her graduate studies in 2014-15, Nicole reconnected with the LSAMP program. Nicole was asked to share her success story in a Fall 2014 panel discussion where she motivated other students to pursue opportunities and to participate in undergraduate research and international experiences.
Alicia Romero
---
Alicia Romero is a June 2015 graduate with a BS in Microbiology from Cal Poly, San Luis Obispo. She transferred to Cal Poly in 2012, but her interest in STEM started long before then. As a high school student, she shadowed a community college professor in a molecular biology lab where she gained hands on experience with tissue culturing and PCR reactions. She then pursued her education in microbiology and had her first full-time research experience in the summer of 2013 under the guidance of Dr. Harber at Oxnard College. Her research aimed to develop an alternative method to indirectly identify algal species via genetic detection of associated aquatic bacterial species. In the following year, she presented a poster of her work at three national research conferences, which motivated her to devote more time to her studies and join scientific organizations on campus. In the summer of 2014, she was accepted into the Amgen Scholars Stanford Summer Research Program where she solidified her desire to pursue a PhD in molecular biology. Her research at Stanford was focused on optimizing methods for applying Chromosome Conformation Capture to assay human fecal samples. She presented her research from Stanford as a poster and as an oral presentation at three national conferences and was awarded a Runner-up Prize at the LSMCE (Louis Stokes Midwest Center of Excellence) Conference for her poster. During her last year at Cal Poly, she has been conducting research in Dr. Michael Black's lab, where her group is working to generate a therapeutic strain of Lactobacillus reuteri for probiotic use in Celiac Disease. She was also a speaker on the LSAMP Undergraduate Research Experiences Panel in Fall 2014. She is currently pursuing admission into post­ baccalaureate programs where she intends to gain additional lab experience and narrow her research interests before applying to graduate school.
Jeffrey Silva 
---
Jeffrey Silva, an Industrial Engineering major, has been extremely involved in the campus and local communities. He is an active participant in the LSAMP program, but also serves as the President of the Society of Hispanic Professional Engineers (SHPE), Vice President of the Partner Ambassadors, Alternative Breaks Coordinator for the Center for Community Engagement, a Multicultural Engineering Program volunteer, a College of Engineering Ambassador, and an Honorary Board Member of Delta Tau Delta. As President of SHPE, Jeffrey has actively recruited his fellow SHPE members to join LSAMP, and has strengthened the relationship between Cal Poly's LSAMP program and SHPE Chapter. In the past year, he created more opportunities for students to network with professionals and enter leadership positions while simultaneously developing programming that made the infrastructure of the Society more sustainable. For example, he created 4 new positions for the SHPE executive board that allow the organization to coordinate local community service projects and reconnect alumni to the CP SLO Chapter. Additionally, Jeffrey facilitated networking sessions between first generation students and industry representatives, workshops preparing the Hispanic community for college applications, finding scholarship opportunities, and workshops about the benefits of entering the STEM fields. He also attended the SHPE National Conference, where he developed his leadership and mentorship skills and networked with industry members. Through this participation in SHPE, Jeffrey was connected to a number of internships and his post-graduate employment at Schneider Electric. Jeffrey is also proud of his involvement with the Partners Ambassadors program –where he focuses on K-12 outreach among underrepresented student populations - and with the Center for Community Engagement, where he serves as the Alternative Breaks Coordinator. This year he coordinated community service trips to New Orleans and Chicago, where students worked with non-profit agencies on projects combating homelessness, environmental issues, and food insecurity.
George Brusch
---
As a first-generation college student, a love of nature was not enough to keep George in school after starting Cal Poly as Forestry major in the summer of 2003. Despite leaving Cal Poly with a 1.7 GPA, George was readmitted in the Fall of 2011 and hit the ground running. Switching his major to Biology, he maintained over a 3.9 GPA, was on the Dean's List seven of eight quarters, and raised his cumulative GPA to above a 3.2. An active member in Cal Poly's LSAMP program and the Biological Sciences Department, he conducted reptile and amphibian surveys at local reserves, created independent research projects on campus, traveled internationally to conferences, and assisted in numerous projects in one of Cal Poly's Physiology labs. In addition to coauthoring three scientific papers, George participated in the Organization for Tropical Studies Research Experience for Undergrads (REU) program, where he travelled to Costa Rica, conducted his own research project, and wrote a manuscript that will soon be published in a scientific journal. After receiving his undergraduate degree from Cal Poly, George was offered Ph.D. fellowships at two top universities, and began at Arizona State University in the fall of 2014, studying physiology with Dr. Dale DeNardo. Most recently, George was awarded a highly competitive Graduate Research Fellowship from the National Science Foundation, which will help support up to three years of his Ph.D. program, allowing him to focus on cutting-edge research.
Kimberly Harry
---
Kimberly dreamed of becoming a successful woman in engineering, not by achieving personal academic and professional success, but by educating and empowering others through her efforts. She moved to the US from Trinidad in pursuit of higher education; after enrolling at EI Camino College, Kimberly worked diligently to maintain good grades while tutoring and being involved in great programs, such as MESA and WIT (Women in Technology). Kimberly received an NSF Award and the Kinder Morgan Scholarship while at EI Camino. Kimberly transferred to Cal Poly, San Luis Obispo in Fall 2011. At Cal Poly, she maintained an overall 3.5 GPA and received scholarships from Raytheon and Chevron. She was involved in student organizations where she demonstrated true leadership. Kimberly was an active member in the Society of Black Engineers and Scientists (SBES) for three years. For two summers, Kimberly worked in multiple states across the U.S. as a mentor in NSBE's Summer Engineering Experience for Kids (SEEK) program. As a SEEK mentor, she increased elementary school students' aptitude in math and science and their interest in pursuing STEM careers by engaging them in interactive, team-based engineering projects. In her second year at Cal Poly, she took a leadership position with Intervarsity Christian Fellowship, San Luis Obispo (IVSLO), a nationwide interdenominational campus ministry. Kimberly was also involved with Driven Toward Sisterhood (DTS), a cultural group on campus whose purpose is to create a positive environment and support system for African American women and women of African descent. Kimberly graduated with a B.S. in Industrial Engineering in Summer 2014.
Adam Smith
---
Adam is an Industrial Engineering major and second-year transfer student from San Joaquin Delta College in Stockton, CA. He was involved in the school's MESA program, where he joined a vibrant community of supportive students. He became the co-president of the SJDC chapter of the Society of Hispanic Professional Engineers (SHPE), and led the expansion of members from seven to forty-two. During the summer of 2013, he interned for Bayer HealthCare's biomanufacturing facility in Berkeley to learn and contribute to operational excellence activities on-site; an experience that cemented his decision to pursue a career in the field of industrial engineering. Adam was ecstatic to be accepted to Cal Poly, his dream school. In his first year, Adam became the Transfer Student Representative for the school's SHPE chapter. In this capacity, he lead fundraising activities in partnership with GRID Alternatives to install solar panels on the homes of low-income residents of the Central Coast. Adam also took a one-week trip to Shanghai as part of an International Supply Chain Class where he met with industry experts, and explored the city's cultural and tourist locations. During summer 2014, Adam interned at Raytheon Space and Airborne Systems in Santa Barbara in a supply chain management role for electronic sub-components. This academic year, Adam is the vice president for Cal Poly's SHPE chapter, and is working to send a record number of students to the SHPE National conference. Adam is thankful for how much his mom has sacrificed to make things possible for him.
Javier Suarez​
---
Javier Ibarra Suárez transferred from Riverside Community College to Cal Poly, San Luis Obispo where he received his B.S. in Electrical Engineering. During his undergraduate studies, Javier took advantage of a number of internship opportunities both domestic and abroad. During summer 2012, the German academic exchange service (DAAD) awarded Javier a 2 month internship to work in Germany for the University of Freiburg. In Freiburg, the research dealt with the design of an ASIC that was capable of being self-sustaining with the use of fuel cells that could also transmit data wirelessly. The following summer he was awarded an internship from Intel. At Intel, Javier worked in a lab where he programmed in a variety of languages, made measurements, automated several time-saving processes to make manual measurements, and developed debug tools. As a result of his contributions, Intel selected Javier as one of their doctoral fellows in the National GEM Consortium Fellowship program. In Fall 2013, he was invited to be a part of the MERGE cohort, a multicultural recruiting event sponsored by the University of Illinois at Urbana-Champaign (UIUC). More recently, Javier has been admitted as a Ph.D. student to the prestigious department of Electrical and Computer Engineering at UIUC. He is a 2014 recipient of a SURGE fellowship sponsored by UIUC and in the Fall of 2014 he began his work with Bliss Professor of Engineering, Dr. Stephen Boppart, in the field of Optogenetics. 
Related Content